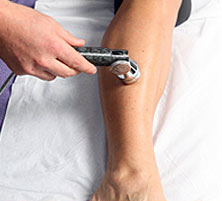 Sports Physiotherapists work with people of all ages and abilities to assess, diagnose, treat and prevent injury. We understand how injury affects sporting performance and use our knowledge, skills and experience to get you back to full fitness.
Prompt assessment and diagnosis is vital in the successful management of sports injuries in order to minimise tissue damage and allow a quicker return to active sport.
Treatment will speed up recovery by reducing swelling and preventing joint stiffness.
Movement analysis and screening can highlight areas of recurrent problems or potential injury. If you are training for a marathon or just planning on increasing your activity levels, we will help prepare you, reduce the risk of injury and improve performance.
At  Woodbridge  Physiotherapy  Practice we have worked with and helped athletes from recreational to elite standard offering the same skill and dedication whatever your level.